Dr.

Jocelyn Ocampo & Dr. Jun Park

At Eldersburg Dental Group we value our patient relationships, making it our priority to deliver gentle, exceptional care that you deserve. We work hard to make you feel at ease by providing a relaxed and convenient atmosphere. With digital x-rays, intra-oral cameras, state of the art equipment and convenient hours, we strive to develop lifelong relationships with our patients by combining our dental expertise with a professional and compassionate staff. The result is a beautiful, healthy smile that lasts a lifetime!
We are now accepting new patients. Call us today to schedule an appointment. We look forward to meeting you!
WE WORK WITH MOST INSURANCES, INCLUDING MEDICAID.
Ask us how to get FREE W HITENING!
Dentures? No problem! FREE Denture Consult !
Not only are we a leading dentist in Eldersburg, we are a full-service practice providing for all of your dental needs. Our services include: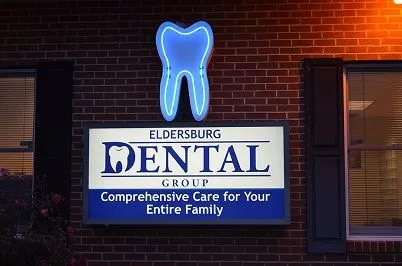 Testimonials
After living in Maryland for 3 years, I finally found this awesome practice. The dentists take such pride in their work and are very effective. The staff members are friendly and remember my name. It's hard to find a place that operates with such high Integrity. I highly recommend this place.